Published by HobaCare, the original Jojoba company on October 22, 2021:
This week we are focusing on using Jojoba Oil for Salt Stone Massage. 
*Jojoba is actually a wax ester and not an oil, we refer to it as an oil because it's what people understand but we prefer to call it an "extract" instead.
We are delighted to introduce you to Lorenne McCormick co-founder of Signature Session in Washington D.C., Lorenne developed her SIGNATURE SESSION incorporating heat with salt stones and essential oils. The combination lends itself to be very relaxing as well as stress and pain reducing.
For someone coming across this interview with no idea what a Himalayan salt stone is – can you introduce us to what these special items are?
Himalayan salt stones as their name implies salt stones from the Himalayas. They have quite a history – with over 200 million years in the making.
Their origins lie in the underground Primal Seabed, where all life originated – located deep within the Himalayan Mountains. These large formations of pure crystalline salt, completely free of toxins and impurities are older than even the dinosaurs!
We work with a local artisan in Pakistan and with his help we source the best, pristine crystal salt cut and carved to our specifications so they fit perfectly in the palm of your hand – a perfect companion while massaging. They are warmed with either one of our exclusive items: our salt bowl or our heated travel bag. Massage Therapists are learning the incredible advantage of incorporating the healing power of warmth to every massage session.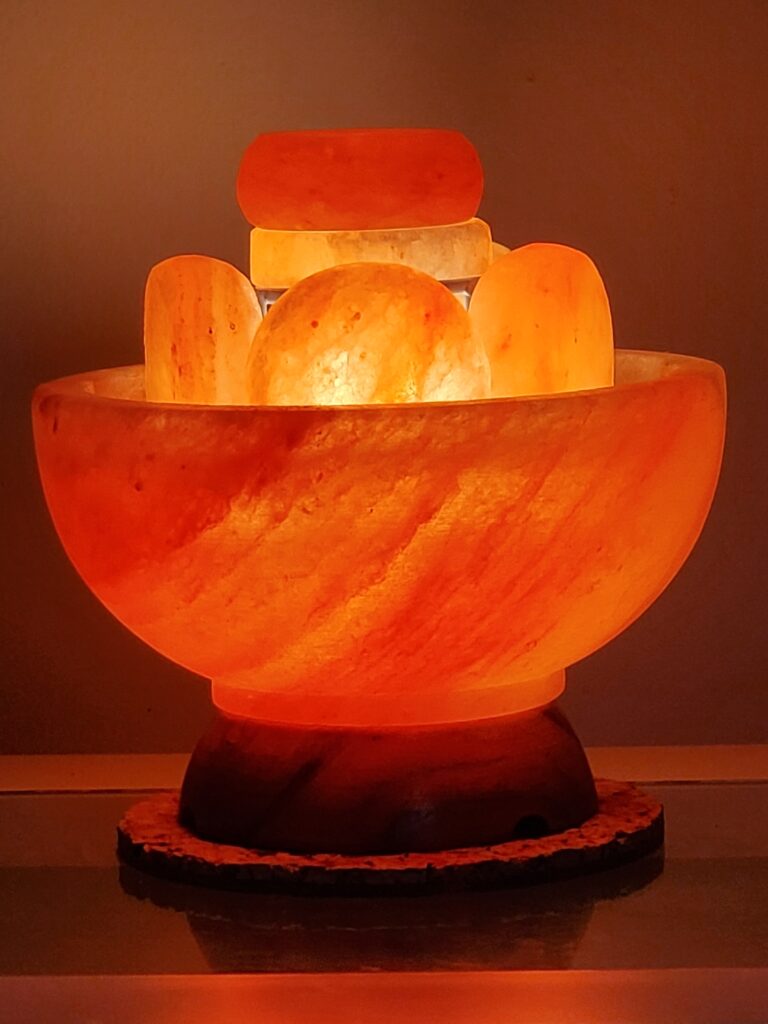 Why do you choose to use salt stones in your massage therapy practice? What benefits stand out for you or your clients experiences?
The ease of using and cleaning these stones plus their added health benefits, for me, was an easy choice over using traditional black basalt stones which in comparison have a laborious set up + cleaning process. And they do not offer any other healing properties aside from their warmth.
Himalayan Massage Salt Stones, on the other hand, replenish and nourish the skin with their 84 trace minerals. Both therapist and client benefit from these trace amount of minerals that is transferred onto the hands and body with every massage. (one of the reasons jojoba oil for salt stone massage makes a perfect pairing, as jojoba has many beneficial properties for the skin)
I find that adding the element of heat when working specific areas of tension and pain greatly help with the healing process, increasing the circulation and adding a much deeper sense of relaxation. These qualities are brought to every massage when salt stones are incorporated!
Clients love the deep, penetrating warmth. The stones are also extremely beneficial for saving my hands!
I do not set and leave the stones on the body as some people have been trained to do – these are designed to sit in the palm of your hand and move with your hand as you massage. They can be used as much or little in each and every session.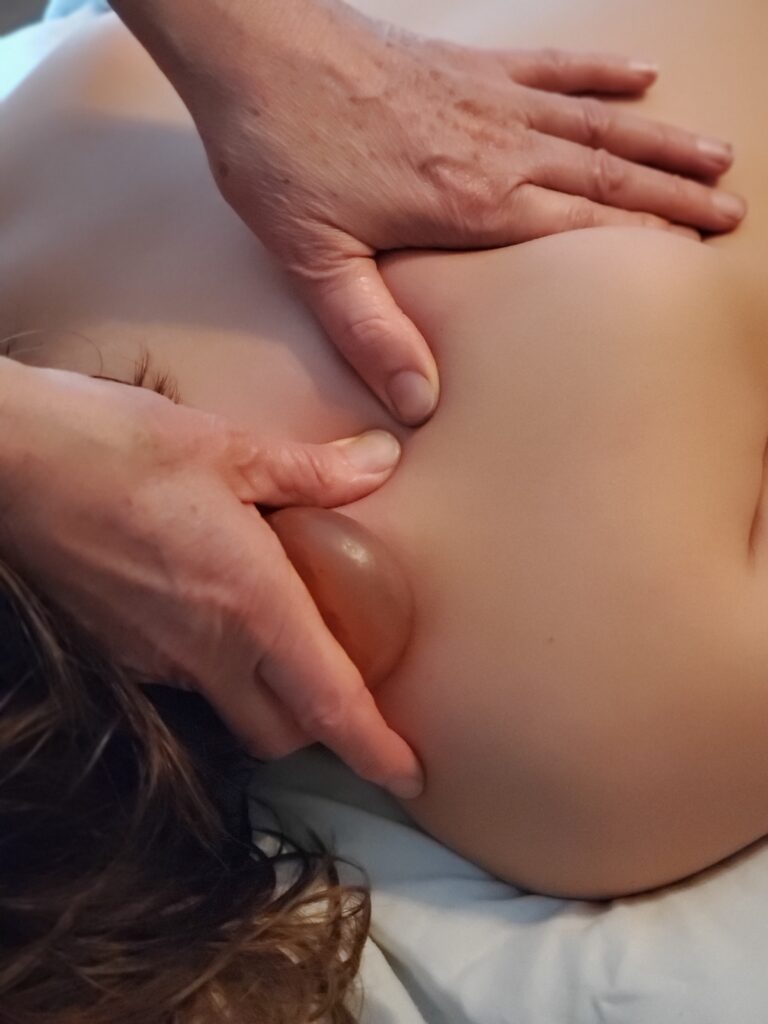 How long have you been incorporating Himalayan salt in your practice and how did you first learn about it?
Wow that's a long story! In a nutshell I attended the Natural Products Expo East – (which showcases new products in the US for retailers) about 18 years ago and there was a booth selling salt lamps. I was instantly drawn to the gorgeous light emanating from the booth and started talking with the vendor (out of 1000's of booths they ended up winning for the best new innovative product for that year's show).
This was before Himalayan salt had arrived in the US and these were actually from salt mines in Poland. He saw I was a spa owner and put a rectangular block of salt in my hand and proceeded to tell me how beneficial it was to massage with this salt block. I loved the concept however the shape was not right and he gave me no concrete idea how to warm them up other than an oven or a light bulb.
I bought a box of these salt blocks, went home, and pulled out my table saw and sander and set it all up in the back yard. Complete with dust mask on, I cut and shaped these salt blocks to fit in the palm of my hand. They looked and felt fantastic! Now I had to figure out how to warm them! I went to Home Depot and bought a torch floor lamp.
When I got home, I took it apart so that 2 of the middle sections came out and made it 2 feet shorter so I was now able to look into the torch lamp area. I proceeded to surround this area with rough salt stones and my newly carved salt stones around the bulb –
It worked!!! They warmed up and voila I had a way to readily warm my massage stones.
OK so that was 17 years ago – I used it this way for a couple years until other massage therapists, over and over again, asked how they could buy a set up like mine!
Signature Session offers a beautifully crafted salt stone bowl to hold your massage stones in – tell us more about this one of a kind piece you've created.
Our salt bowl has been designed with several considerations in mind– functionality, beauty and affordability!
I have known Tariq in Pakistan for over 15 years and over the past 2 years have been designing this bowl back and forth on Skype with him and my business partner.

Tariq took on the challenge and has done a fantastic job! I even had to mail him the specific bulb we use for sizing as he did not have that kind in Pakistan. The bowl inside has a carved, tiered design which allows the massage stones to stand up against the warming cage and yet the outside of the bowl still has its beautiful shape as it sits on a hand carved rosewood base.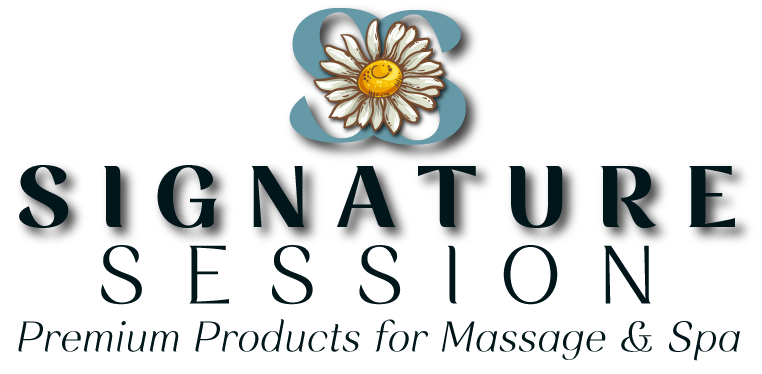 Where does Jojoba Oil for salt stone massage come in? Do you use it in your practice for massage, on the stones themselves or both?
Absolutely both! The way I see it there are many mediums to use as a base for your massage practice, however I use HobaCare Jojoba for salt stone massage as it is the crème de la crème – so to speak !
I give a top-quality massage and I expect that same quality from the medium I use and even though Jojoba is probably one of the most expensive mediums to use, ounce for ounce it works out about the same as you don't use as much of it as a traditional oil.
I am a purist, especially when it comes to what I put on my hands and my clients body. For that reason HobaCare Jojoba oil for salt stone massage is an easy choice !
Why would you recommend using HobaCare Jojoba oil for salt stone massage?
When our stones arrive in the US we finish them off with a final sanding and sealing with HobaCare Jojoba – we find that the qualities of the Jojoba seeds delicate waxy nature helps to seal and smooth the salt stones far better than just a traditional oil.
The stones will continue to soften and smooth with days, months, and years of use. Every day, I still use the stones I carved 16 years ago and yes they are smaller but ooooh so incredibly soft and smooth – clients cant believe it is salt!
My first choice is HobaCare Jojoba oil for salt stone massage, second, any base oil would work on our stones. The last choice would be lotion or cream because over time the latter will cause a slight residue to collect on the stone as the minerals of the salt hold on to the chemical nature of a cream or lotion. But if this is the preferred medium, a simple sanding with make the salt stones smooth again. No sanding is required if oil is used as the medium.
We always recommend Jojoba oil for salt stone massage!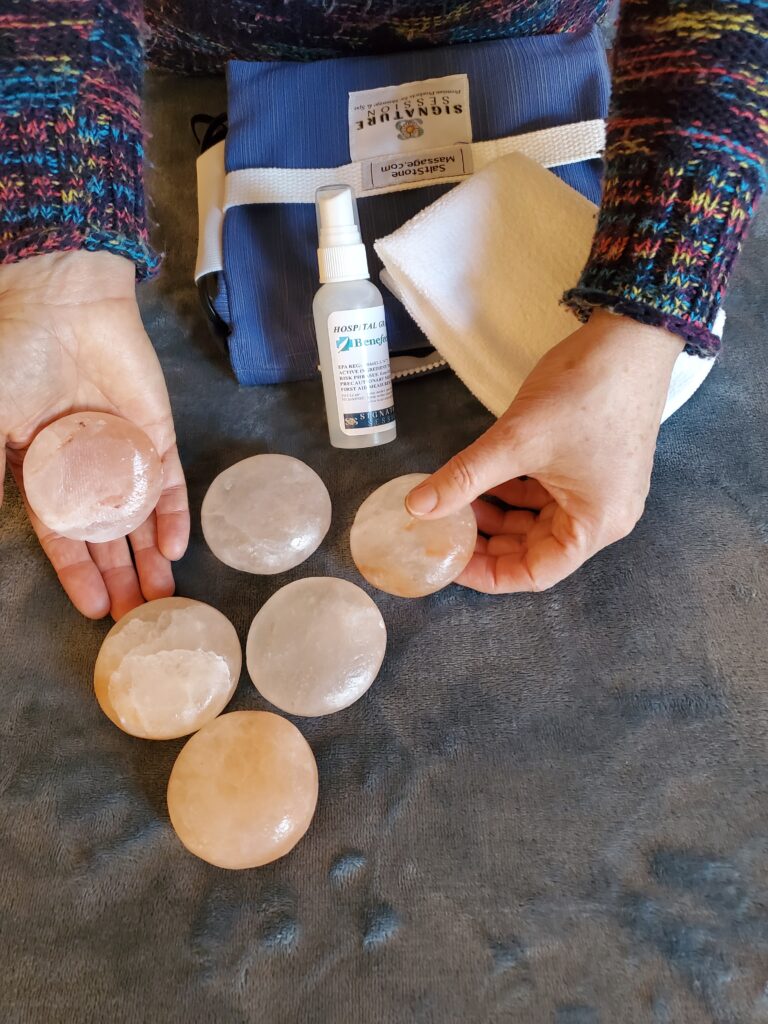 Have you personally tried HobaCare in any other areas of your life? For face, body or hair care? Make-up removal, an aromatherapy base, a conditioner for wood products, or an ingredient in DIY recipes?
Yes, I like to use it right after I get out of my infra-red sauna – it is great for a skin conditioner on my face and body.
Also, my kids love massage at night – so I always have some HobaCare Jojoba on hand as the base to use with my blend of aromatherapy – lavender and orange are their favorite. Or blended with peppermint and applied to the bottom of the feet as a natural remedy to reduce a fever – it works as well as any aspirin!
In fact I always tout the benefits of HobaCare Jojoba to my prenatal clients who are looking for something to use once they have a newborn at home – Jojoba is the perfect beginning for a newborns skin as it does not clog the delicate pores.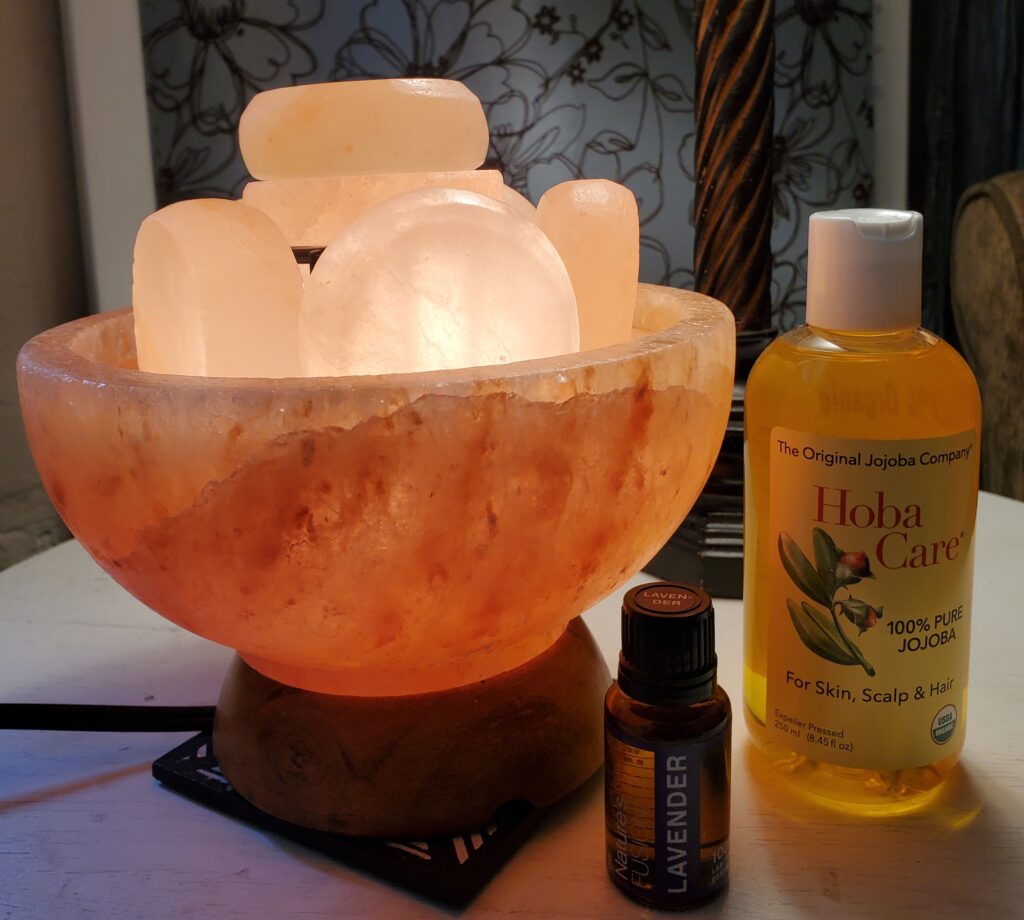 Where can your stones be purchased?
They can be purchased directly from our website www.signaturesession.com
*Jojoba is actually a wax ester and not an oil, to learn more about that see our in depth page with information about Jojoba (https://jojobacompany.com/what-is-jojoba). We refer to it as an oil because it's what people understand but we prefer to call it an "extract" instead.